LastPass
I loved LastPass. It was simple and it just worked. Between having same password for every site or weak passwords that I could store in my head, LastPass was a welcome replacement and a very convenient one at it for managing website passwords and encrypted notes.

Pass
I still highly recommend LastPass for anyone that's looking for a password manager but I recently switched to pass. I have been spending lot of time lately in Emacs and ansi-term and I was looking for a command line password manager that's simple but very secure. Looking around, I came across pass and I have been very happy to use it as a replacement for LastPass.
The basic premise with pass is that you manage one or more .gpg files and pass provides a neat wrapper around manipulating and dealing with the .gpg files.
Features
Light-weight command line utility
Uses GnuPG for encryption and decryption
Version control encrypted content using Git
Generate random passwords
Search ("grep") within your encrypted content
Copy password (clip) to clipboard or show the password
Move, copy, rename or edit your password-store .gpg files
Bash completion for pass commands and password store paths
Migration and Workflow
I moved over all my passwords, notes and other encrypted information from LastPass to pass and I love my workflow now. I don't miss the convenience of LastPass at all. It takes a second to clip my password for a given site using pass in ansi-term or iterm2 and then paste it into the web browser. The only complaint I have is that grepping files seems to be very slow when you have tons of .gpg files. Passing a path to the pass grep command would be a very good option.
You can impose any structure you want in organizing your passwords but I find the following organization very easy to work with. For e.g: If I have two Gmail accounts I would store it as below in pass
$ 

pass insert personal/gmail.com/user1


$ 

pass insert personal/gmail.com/user2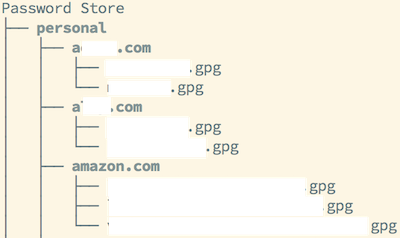 Head on to the pass site for more information if you want to try it.