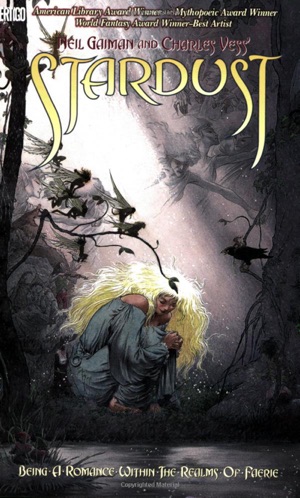 I'm part of a book club, to be more precise a teen book club, in our local library. Stardust was picked for the month of January so I had to read this book. Initially I was dismissive of this book since I'm not that into fantasy/fairy tales and not to mention the book appeared and sounded like it's meant for little kids. I watched the movie a long time ago and I had a vague idea of liking that movie. Since I didn't remember anything from the movie and the book seemed rather small I figured I'd read it in couple days to make it for the club meeting.
This was my first Neil Gaiman book and I was pleasantly surprised to have loved reading it. My last two reads were non-fiction so this was a much easier read. I struggled a bit in the beginning with all the new words that I didn't know and since this wasn't a kindle version I had to look up word definitions in my phone every single time so my read rate was crippling. I think after a point it was a lot easier with my improvement in vocabulary.
There was lot of magical stuff, kings and queens, witches and harridans, creatures of different sizes, shapes and forms, and strange worlds. I really loved all the illustrations in the book. It helped a lot with understanding certain aspects of the story. There wasn't much room for character development as things were moving really fast and I kind of liked it but at the same time I almost wished the book was longer with more to the story since it was a such a lovely read. I rate it 5 stars and I'm definitely looking forward to reading more books written by Neil Gaiman.